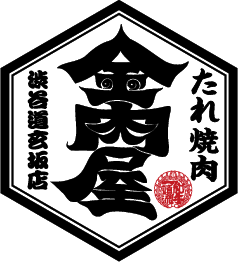 New style of "Chilled raw
green peppers & Tare sauce yakiniku.
"Please enjoy it with sours
What KIN-NIKUYA is particular about
New style of "Chilled raw green peppers & Tare sauce yakiniku."

A new style in which you can enjoy eating our specialty "Tare sauce yakiniku" with chilled raw green pepper instead of Korean lettuce. The sours served in a large mug is also excellently compatible. Please enjoy it together.

Fresh offal that exceed your expectations

Fresh offal sent directly from the slaughterhouse at Shibaura and the place become high-quality beef that we call "golden Wagyu offal" by our own washing and pretreatment. By treating it carefully, you can enjoy a solid offal flavor without any habits or odors. Once you eat it, you will surely be addicted to it.

Excellent raw tongue

It is thought that there is only one type of beef tongue, but in fact, tongue is roughly divided into four parts. At our restaurant, you can enjoy all parts of fresh tongue by purchasing a whole Wagyu cow. There are many variations such as sinew tongue salt, boiled tongue salt, and special salted tongue, and we recommend the black tongue that you can enjoy in its raw state.