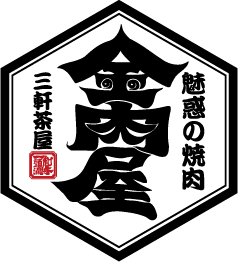 We serve sauce yakiniku in the traditional
style of a house. Enjoy delicious yakiniku
in an atmosphere unique to Sangenjaya.
What KIN-NIKUYA is particular about
Enjoy sauce-grilled meat at the retreat in Sankaku Chitai, Sangenjaya

Enjoy our special sauce-grilled meat at our house-style restaurant with a hideout-like atmosphere. Our original sauces pair perfectly with the special Wagyu beef selected by the connoisseur. For example, we have a special stamina sauce that goes well with outside skirt, and another tomato and miso sauce that complements tenderloin.

A new way of enjoying sauce-grilled meat with raw chilled bell pepper.

We have developed a new way to enjoy our special grilled meat, which we buy whole. Instead of serving it with Korean lettuce, we serve it with chilled bell pepper. Make sure to give this perfect pairing a try.

Traditional grilled meat (with smoke)

Enjoy rare Wagyu beef at our traditional house-style restaurant unique to Sangenjaya. The first floor has counter seating recommended for gourmets, and the second floor has tatami floor seating and can be reserved entirely. Enjoy the traditional grilled meat (with smoke) in this relaxing atmosphere.

Reservation
Name
Tare-Souce Yakiniku KIN-NIKUYA Sangenjaya
Adress
2-13-10, Sangenjaya, Setagaya-ku, Tokyo, 154-0024
Phone Number
03-3795-0089
Opening hours
Mon. to Thu. 5:00pm - 2:00am (Last order 1:30am)
Fri. & Sat. 5:00pm - 4:00am (Last order 3:30pm)
Sun. & Holiday 5:00pm - 11:30pm (Last order 11:00pm)
Regular day off
Open all year round